VMware vSphere Web Client hiding vCenter Operations Manager Health Badge
After I have done a upgrade of a VMware vCenter Server to 5.5 Update 1a and vCenter Operations Manager 5.8.1, I was checking around to see if everything was working and after logging in to the vSphere Web Client I could not find the the health bagde.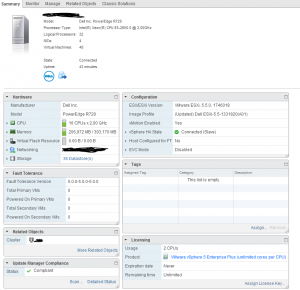 The was also a odd menu item on the home screen with Legacy application, Screenshot missing.
First I tried updating the vCenter registration from the vCenter Operations Manager, and unregister/register the vCenter Server, rebooting the vCenter Operations Manager vApp and the vCenter server, nothing worked.
After some searching around I found a catalog on the server having the VMware vSphere Web Client called:
C:ProgramDataVMwarevSphere Web ClientSerenityDBserenity
In this catalog there is the personal settings for each user. but also an common/all users settings and this is called:
C:ProgramDataVMwarevSphere Web ClientSerenityDBserenityALL
I deleted the ALL folder (renamed it for backup) and restarted the VMware vSphere Web Client and my vCenter Operations Manager Health Bagde was back.