vRealize Operations and SDDC Management Health Problem
I had a customer that was looking at a problem with their vRealize Operations and the SDDC Management Health Pack, that showed errors on vRA 8.x services, that is not started, because of licenses, and there are also some other that is not on the On-Prem version.
The vRA 8 service is reported down.
The documentation not very good around this problem, it just says, that you can disable this in a configuration file, nothing about what the precise name of that file is or where it can be found.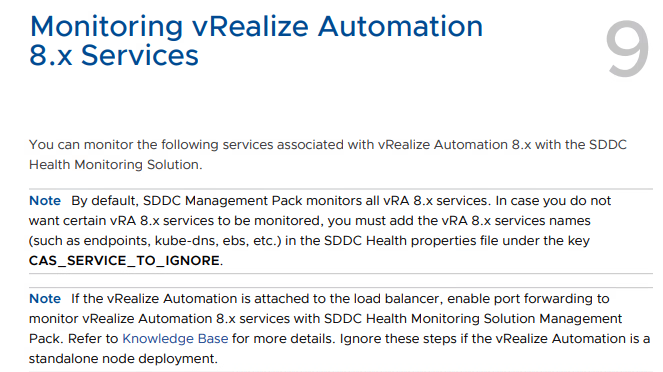 The file name is: sddchealth.properties
It's located here: /usr/lib/vmware-vcops/user/plugins/inbound/SDDCHealthAdapter3/conf/
Here I have added some services that I what to ignore ind the "CAS_SERVICES_TO_IGNORE" Section.
The next problem is that the list in the documentation do not have all the services, there was 2 error that I had that was not mentioned in the documentation, but I copied them from the vROps Dashboard. The 3 i found was missing var this:
idem-service-event-ingestion
This 2 are fixed in the lates release:
docker-artifactory
extensibility-service
# Thread pool size for Concurrent Task execution
#Author : Gaurav Gupta
THREAD_POOL_SIZE=10
SAML_TOKEN_TIMEOUT_MILLI = 3600000
VROPS_REST_PAGE_SIZE = 1000
VCD = false
CERTIFICATE_EXPIRY_DAYS_FOR_IMMEDIATE_ALERT = 7
CERTIFICATE_EXPIRY_DAYS_FOR_CRITICAL_ALERT = 14
CERTIFICATE_EXPIRY_DAYS_FOR_WARNING_ALERT = 30
CERTIFICATE_COLLECTION_CYCLE_COUNT_IN_HOURS = 24
# please add vra 8.x services names like this endpoints, kube-dns, ebs
# NOTE : vRA 8.x services added here will not be collected or monitored by SDDC MP
CAS_SERVICES_TO_IGNORE = lemans-gateway, lemans-resources, private-cloud-gateway, etcd-service, docker-artifactory, extensibility-service


After editing, stop and start the collector for the SDDC Management adapter.