VMware Aria Suite Lifecycle and Error LCMBLACKSTONE213006
I am using VMware Aria Suite Lifecycle to move content between VMware vRA/vRO from dev -> test -> production, and that works fine, with some workaround.
I was trying to this at at customer 2 weeks ago, and was trying to move a vRealize Orchestrator Package, for Test environment, but when running the Capture, I got this error "LCMBLACKSTONE213006".
Error Code: LCMBLACKSTONE213006
LCMBLACKSTONE213006
Received exception while triggering pipeline action on blackstone.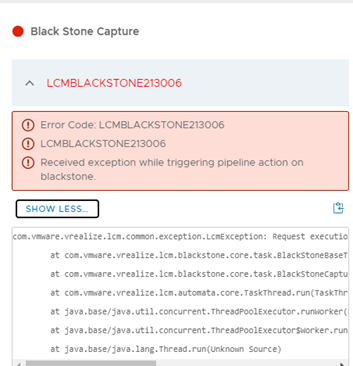 I was trying to investigating what the problem was. Here are some data about the versions.
Aria Suite Lifecycle 8.12
vRealize Automation 8.10.1
vIDM 3.3.7
When trying to move vRO Packages I was experimenting with when it failed and did not, so I made some test packages.
Big package (Failed)

Workflows
Actions
Configuration
Resource

Workflow (worked)
Action (failed)
Medium package (worked)
As I found that it was if the Package contained "Action" it failed must be something with that.
But I did not find anything wrong with the Packages, as I could export them in vRO.
I asked customer to update the vRealize Automation 8.10 to Aria Automation 8.12.
After the opgrade to Aria Automation 8.12 it is working.